Society donates £300 to local Primary School for climate initiative
Our Community Support Scheme responded to a call from Northfield Primary School to help fund a tree planting session in conjunction with Sherwood Forest Hospitals' climate action Hope Orchard Project.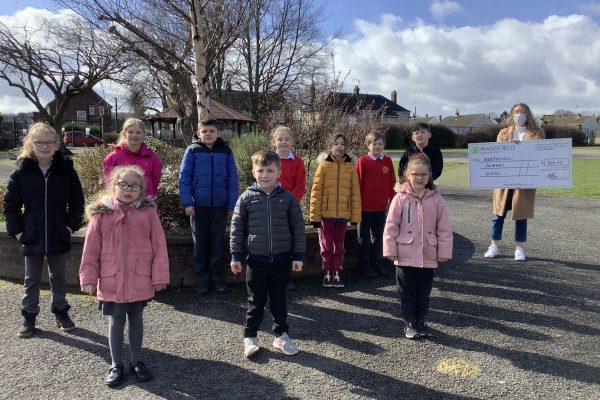 During the pandemic, getting out into green spaces and spending more time in nature has had a tremendously positive affect on the wellbeing of many people – both mentally and physically.
Sherwood Forest Hospitals' 'Hope Orchard Project' stresses a link between health and the environment and has sprung to life in the 'hope' of providing more spaces that will continue to grow and thrive after the COVID-19 restrictions. The project has seen trees planted at several local hospitals as well as at many schools and colleges across the county.
Forest School Leader at Northfield Primary School, Karen Smith, said "We are so grateful to the Mansfield Building Society for donating £300 to our Hope Orchard Project. This money helped buy trees, shrubs, and compost so the children of Northfield could create a Hope Orchard on our developing Forest School site. As a school we were invited by the Sherwood Forest Trust to take part in the project to help us remember all those who have struggled during the pandemic and to provide hope moving forward. On 22nd March 2021 at 11am, each class had two child representatives to plant a tree or a shrub and had lots of fun getting muddy on a lovely sunny morning."
Society colleague, Holly Smith, presented the cheque to the school and said, "To see the children excited and engaged in a project that means so much to the wider community was fantastic.
As always, our Community Support Scheme is thrilled to have been able to support the local community, not only in enabling the school and children to purchase the plants they needed, but also to be a part of a bigger county-wide initiative to provide 'hope' as we ease out of lockdown restrictions."
Our Community Support Scheme funds local groups and organisations in Nottinghamshire and Derbyshire and meets twice yearly to consider applications. To find out more or to download an application form visit mansfieldbs.co.uk/community-support-scheme/