Society announces new Charity Partner for 2022
We have chosen Nottinghamshire Mind as our new Charity Partner.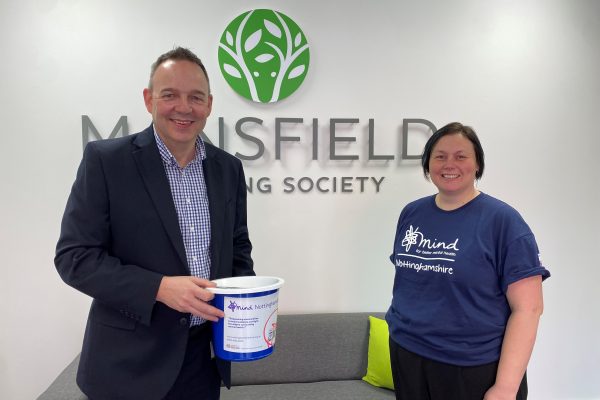 After considering a number of local charities, all colleagues had the opportunity to vote for their preferred choice and Nottinghamshire Mind came out top. The Society will now be fundraising and volunteering for the service, which provides vital mental health support across the county.
Nottinghamshire Mind, a local charity and member of the Mind Federation, is available to everyone in Nottinghamshire, making a real difference to people's lives providing information and guidance on mental health.
Eager to get started, the Charity Committee has already pulled together a schedule of fundraising events, ranging from bake sales and an Easter hunt, to climbing Ben Nevis. The ambitious calendar aims to include as many colleagues as possible to keep us powering towards our target for Nottinghamshire Mind.
We put Mental Health high on their list of priorities for employee care, with 6 colleagues volunteering time and completing regular training as Mental Health First Aiders, providing confidential support across the Society.
As we delicately edge out of a pandemic that has enveloped everyone's lives, it was no surprise that Nottinghamshire Mind was a clear colleague favourite. We take our Corporate Social Responsibility seriously and focus all of our community and charity efforts on supporting local organisations that work to benefit the communities in our heartland area. So, being able to pinpoint colleague fundraising in support of Nottinghamshire Mind, is a perfect match.
Jo Sanders, from Nottinghamshire Mind, explained what this partnership means to the charity:
"We are privileged to have been chosen by Mansfield Building Society to be their Charity of the Year. This partnership will not only provide Nottinghamshire Mind with much needed funds to be able to continue our community mental health support, it will also give us an opportunity to work with Mansfield Building Society colleagues, customers and the wider community to help create a culture where mental health can be talked about openly without judgement."
Vickie Preston, Head of HR and Charity Committee member, commented:
"We are delighted to announce Nottinghamshire Mind as our new Charity Partner.  We are committed to supporting the local community and what better way to do this than fundraising and volunteering for this critical service. As a Society we encourage our colleagues to talk and we support our members in need, so to contribute to the wider communities through the charity, is fantastic."
For more information about the community activities supported by us, visit: mansfieldbs.co.uk/about-us
For more information about the vital services Nottinghamshire Mind provide, visit: nottinghamshiremind.org.uk