The Mansfield helps put extra first aiders in the local community with St. John Ambulance
Our Community Support Scheme has donated £500 to St. John Ambulance to help put extra first aiders in the local community.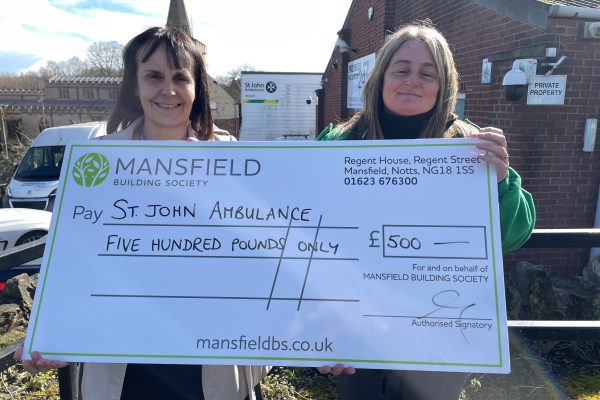 St. John Ambulance is a leading health and first aid charity providing care in the form of emergency ambulance crews and first-aid volunteers at public events – as well as providing support in hospitals around the country.
The Charity's Volunteer Training Team continually re-skill volunteers in changing healthcare methods, for example, all clinical volunteers are now trained to use Public Access Trauma First Aid Kits to increase survival rates following stabbing injuries. Along with vital training, volunteers are also provided with full uniform and the essential life-saving equipment such as defibrillators and first aid and trauma kit bags.
The Mansfield arm of the charity currently has 20 operational first aid volunteers providing medical support at local events such as Mansfield Town football matches, the Christmas Light Switch On and many other events in and around Mansfield.
Alison Cook, Community Fundraising Manager for St. John Ambulance, explains:
"From our vibrant youth programme, to our world class adult training programmes, we empower volunteers of all ages with lifesaving skills and the confidence to use them. Our current volunteer programme costs, on average, £100 per volunteer, per year. They learn care skills and advanced first aid, as well as additional clinical and driving skills for ambulance workers.
This donation allows us to train 5 more volunteers, which is a fantastic addition to the boots already on the ground, providing brilliant first aid care in Mansfield and the surrounding District"
Mandy Whitten from The Mansfield, commented:
"The Community Support Scheme is proud to support the great work that St. John Ambulance do in the local area and to help provide our Heartland communities with a greater provision of care."
If you would like to know more about volunteering for St. John's Ambulance, visit sja.co.uk
For more information about The Mansfield's Community Support Scheme, visit mansfieldbs.co.uk/community-support-scheme