Junction Arts can light up Bolsover with lanterns
Our Community Support Scheme has donated £500 to Junction Arts Ltd to help bring light to Bolsover's Lantern Parade.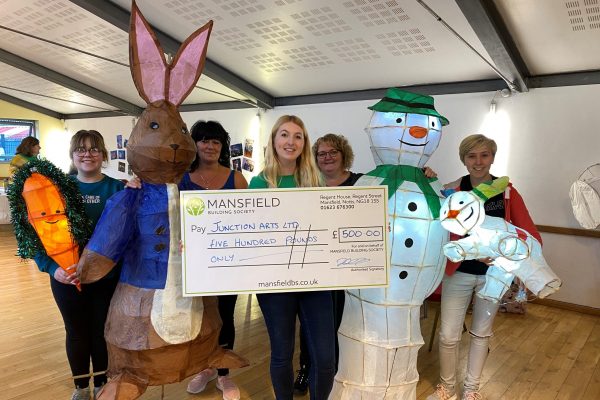 The donation was given to support an ambitious programme of lantern-making workshops with 5 local primary schools together with community workshops at Bolsover Community Centre.  The Lantern Parade is a long-standing community event in Bolsover's annual calendar.
Junction Arts Ltd is one of the longest established participatory art charities in the country and their vision is to create a better future for everyone through the arts. Established in 1976, they believe passionately that the arts can have a positive impact on people and places.
Amy Smith, Project Coordinator for Junction Arts Ltd, said:
"We have been working with communities across North Derbyshire for over 40 years and our festivals, workshops and projects offer the chance for all ages to be creative, learn new skills and improve wellbeing. We want our projects to inspire change and build stronger communities.
For 2021 we want to return this magical and memorable event to the streets of Bolsover for its 28th year. We have worked hard to build a diverse and energetic programme of activity, and this donation meant that we could buy 180 LED lights to use with children in our school programme and help us achieve our exciting plans."
Vickie Preston, Head of HR at the Society, also commented:
"Community projects like the one Junction Arts provides are invaluable to our local area because they allow people to contribute directly and then come together. It's great to see all the hard work that has gone into making the lanterns and to see people continue to support the town's tradition."
The 2021 Lantern Parade starts from 4pm at Bolsover Castle on Saturday 27th November 2021.  For more information about the parade and the work of Junction Arts, visit junctionarts.org