Grand support for 'Oar Blimey' Atlantic Challenge
The Society has made a £1,000 donation to Oar Blimey, a fundraising challenge in support of those living with dementia.  Coincidently, The Mansfield, whose Charity Partner for 2023 is the Alzheimer's Society, jumped at the chance to offer support to the amazing initiative.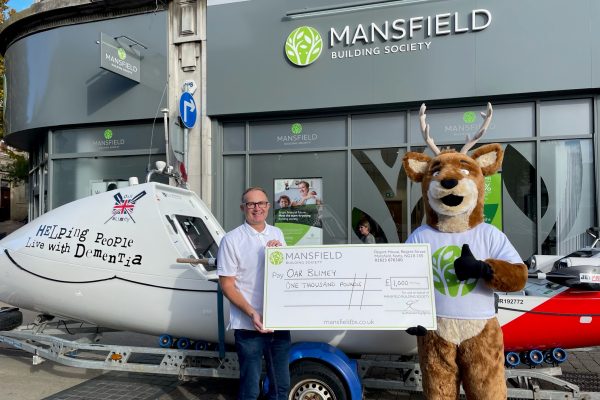 Setting off from Portugal, in December, team Oar Blimey will row unsupported across the Atlantic Ocean to Sint Maarten in the Caribbean – a total of 3,500 nautical miles.
Skipper, George Nelson and Brother-in-Law, Russ Davis, stepped up to take on this mammoth challenge when George, whose Mother lives with Dementia, wanted to do more to help those affected by the condition in the Mansfield area. Oar Blimey have chosen to direct their fundraising towards Our Dementia Choir and Help at Hand Mansfield.
To keep the boat moving 24 hours a day, 7 days a week, the team will alternate through a continuous cycle of 2 hours rowing followed by 2 hours rest. As well as testing their physical endurance to the maximum, the challenge will simultaneously test their mental endurance to unbelievable limits – something George feels mirrors what Dementia sufferers experience every day.
George Nelson, team Oar Blimey, explains:
"One in 11 people over the age of 65 are diagnosed with Dementia, with symptoms including memory loss, reduced mental agility, trouble communicating and mood swings, to name a few. But what is so often not understood, is the extra support Dementia sufferers need, usually from family members and friends. Ensuring everyone has the resources they need to keep going, is vital.
Self-funding this challenge means the blisters, salt rashes and sleep deprivation will all be worth it when we put every single penny we raise right where it's so desperately needed."
Richard Crisp, Commercial Development Executive for the Society, commented:
Dementia can affect all aspects of a person's life, as well as those around them. But with the right help and support, many people can, and do, live well with Dementia. Keeping in touch with people and engaging in social activities, such as the Dementia Choir, is great for mental well-being.
What Oar Blimey are going to endure in the name of Dementia is astounding and the Society is privileged to be a part of such a spectacular show of selflessness by George and Russ."
With just over 3 weeks to go until their adventure begins, team Oar Blimey continue to tirelessly fundraise for the cause so close to their hearts, if you would like to support them, you can donate at oarblimey.co.uk.
You can also keep up to date with the expedition from start to finish on their website or by following their Facebook, X (formerly known as Twitter) and Instagram channels – just search Oar Blimey.
To read more about the our community donations, visit mansfieldbs.co.uk/latest-news