Donation helps establish a browsing library at DH Lawrence's former Eastwood home
Our Community Support Scheme has donated £300 to The Breach House Project to support the development of a browsing library which will celebrate local writer, DH Lawrence.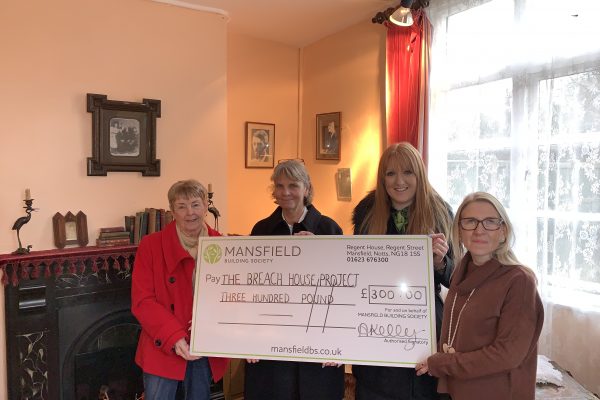 The library, which is made up of hundreds of books by and about Lawrence, is currently being installed at his childhood home, The Breach House in Eastwood, and will be free for the public to use at their leisure. The official launch of the library will be on Saturday 4th April 2020 – the Breach House's first open day of the year.
Ruth Hall, volunteer at The Breach House Project, explained the importance of donations to the project:
"The Breach House is a free-to-use service, run completely by volunteers.  We are passionate about getting the local community involved in Lawrence's literature and life. The library is just one project on our list of ideas and it couldn't have been possible without this donation.
We have visitors coming from across the world to visit the house and we hope to one day be able to open The Breach House to local community groups and writers to use as a creative space."
Melissa Gregory, Mortgage Consultant at Mansfield Building Society, spoke highly of the developments happening at The Breach House Project:
"It was lovely to go over and meet the volunteers. Their enthusiasm and commitment to bringing local literature to a wider audience is ensuring that we continue to take pride in our heritage.
As a Building Society we are dedicated to supporting our local community. The Breach House Project is looking to bring the community together to help expand creativity and knowledge, it is a pleasure to support such a wonderful cause."
To find out more about The Breach House Project, visit their website at thebreachhouse.co.uk
Mansfield Building Society's Community Support Scheme funds local groups and organisations in Nottinghamshire and Derbyshire and meets twice yearly in May and November to consider applications. To find out more or to download an application form visit mansfieldbs.co.uk/community-support