A little sunshine created for those living with dementia during Covid-19
Ashfield and Mansfield Dementia Friendly Communities Partnership (AMDFCP) has received a donation of £500 from our Community Support Scheme to help those living with dementia in the local area.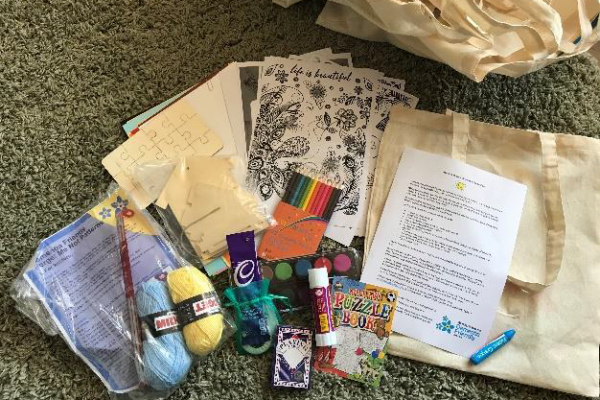 The donation has been used to create 'little bags of sunshine' which provide fun and inspiring activities for those living with dementia, and their carers, whilst they self-isolate.  The packs, which encourage crafts, painting and relaxation, have so far benefitted 107 people who don't have access to online support.
Dianne Holmes, Health and Wellbeing Officer for Ashfield District Council expressed the importance of this kind of support in the local community:
"We are determined to continue supporting local people living with dementia throughout the COVID-19 pandemic.  Although we offer online support, we wanted to ensure that no one felt alienated during this difficult time.
The lockdown can add extra stress on families living with dementia, so our packs included resources and activities to help keep people and their brains active.  We've had a great response and can't thank the Society enough for their support."
Richard Crisp, Commercial Development Executive at Mansfield Building Society added:
"We're proud to be supporting vulnerable members of our local community during this time.  Everyone knows how demanding self-isolation can be, and for those who are suffering from dementia, this is compounded when their everyday lives are affected by memory loss and a decline in other mental capabilities.
We're delighted our donation to the Partnership has now helped to bring relief to so many members of our community affected by dementia."
To find out more about Ashfield and Mansfield Dementia Friendly Communities Partnership, visit mansfieldcvs.org/projects-activities/dementia-action-alliance
Mansfield Building Society's Community Support Scheme funds local groups and organisations in Nottinghamshire and Derbyshire and meets twice yearly to consider applications. To find out more or to download an application form visit mansfieldbs.co.uk/community-support.