Society's Charitable Trust donation to Social Action Hub helps tackle local youth loneliness
The Charitable Trust has donated £2,879 to the Social Action Hub to support their Tree House Project – a scheme launched this year to help tackle the issue of youth loneliness in the local area, which has been amplified by the Government's lockdown measures.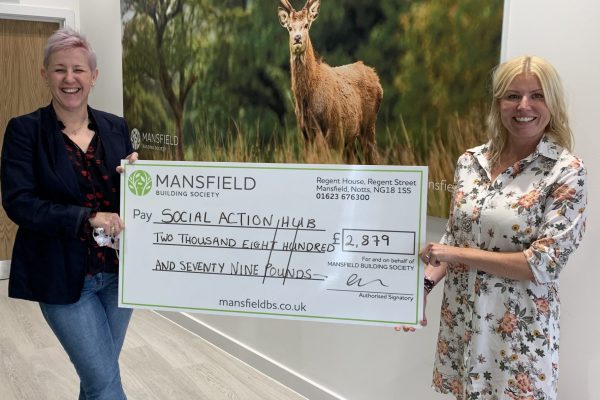 The Social Action Hub, based in Rainworth, was formed in 1993 in response to the ever changing needs of young people in the local area.  The charity provides help to improve life skills, including mental wellbeing and physical and emotional resilience.
The Tree House Project was created to support the most vulnerable young people in the area by creating a safe environment to discuss personal issues stemming from loneliness and isolation.
Claire Penny, CEO of Social Action Hub, said
"At the Social Action Hub, we want to help address the challenges head-on by providing a safe haven where individuals are able to share their concerns, seek advice and find the support necessary to get their lives back on track.
The Tree House Project allows us to specifically focus on youth loneliness, particularly those with mental health issues who aren't aware of the support available and are increasingly isolated due to the ongoing pandemic.  The donation from the Charitable Trust has allowed us to provide counselling and mentoring support – a service which has previously not been available due to funding constraints.
We have also been able to deliver sessions to help improve physical and mental wellbeing and provide employability support for young people."
The Charitable Trust was established in 2015 to support sustainable initiatives that benefit the community, and the trustees were inspired by Social Action Hub's commitment and enthusiasm to helping the local community.
Paul Wheeler, Chief Executive at Mansfield Building Society, said:
"We are very proud to support The Tree House Project with a donation from the Charitable Trust, and believe the funds will help young people in our Heartland Area become more confident and able to reach their true potential with the support of the Social Action Hub.
The hope is that individuals will take the knowledge and skills they learn to not only improve their own mental health and employability, but also help others who may share similar life experiences."
To find out more about Social Action Hub and the services they offer visit socialactionhub.com
Find out more about Charitable Trust.