Society supports Nottinghamshire Wildlife Trust's expansion plans
The Mansfield's Community Support Scheme has donated an additional £600 to further extend an initial development of Woodthorpe Meadow Nature Reserve.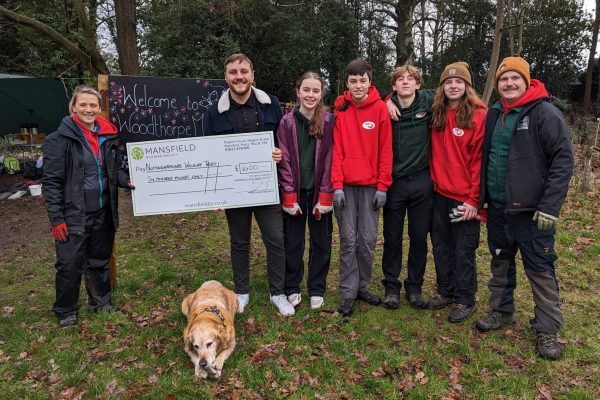 The Nottinghamshire Wildlife Trust site, Woodthorpe Meadow, will use the donation to extend footpaths throughout the Nature Reserve and increase the biodiversity of the site.
Actively managing the site for over 3 years, Woodthorpe Meadow is cared for by a team of young volunteers who form 'Keeping it Wild'. The volunteers, aged from 13-25, give up their time to help enforce the Trust's mission to protect wildlife and to enhance habitats and the environment.
Timothy Bowness, Nottinghamshire Wildlife Trust Volunteer, commented:
"We are so grateful for this donation from The Mansfield. We have worked hard to create a new management plan and improve the biodiversity of our small reserve, from wildflower meadow restoration to hedgerow planting, all working to reduce carbon & help improve the environment – we can now continue to develop on the great work we have already done and help provide a space for wildlife to thrive in the city environment."
Joe Dawn, Product Manager at Mansfield Building Society added:
"I have visited the reserve, and although the great work already done by the team of volunteers stands out, it is fantastic for the Society to be able to provide extra funding to help support the additional developments. The Reserve provides a vital connection to the natural world for those living in the city."
For more information on Woodthorpe Meadow, visit nottinghamshirewildlife.org/nature-reserves/woodthorpe-meadow
If you would like to read more about our community Support Scheme, visit mansfieldbs.co.uk/community-support-scheme