Society 'shells' out to support local children
We have continued our support for the School's Out appeal by donating dozens of Easter eggs to local Primary schools across the local community.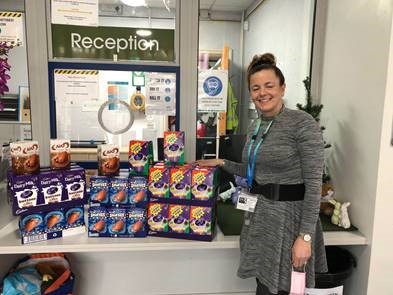 Our relationship with School's Out Mansfield began in 2020 when we pledged £6,000 to ensure local children didn't go hungry over the Christmas period, and although the seasons have now changed and there is definitely light at the end of the tunnel, we decided to step-up and donate 250 Easter eggs to create a little extra cheer as the UK continues its journey back to normality.
School's Out is a Mansfield community project, set up in 2019 to help alleviate child poverty during school holidays when free school meals are not available.  They provide emergency food parcels 5 days a week, 52 weeks a year and step in to support families in need to ensure every child has access to the necessary school uniform and other educational essentials.
The team has seen a sharp rise in the number of children and families needing support, meaning School's Out is stretching its limited resources even further.  With Government lockdown restrictions still in place, fundraising donations for charities and volunteer campaigns have been at an all-time low.
Our Community Support Scheme aims to help a diverse range of local organisations, projects and initiatives to give back to the very communities our branches serve, so we didn't hesitate to support School's Out latest project.
Vickie Preston, Head of HR, commented "I had the privilege of helping School's Out deliver hundreds of Easter eggs to local schools and I could see on the faces of the school staff just how much these donations mean to them and their pupils. Giving back to the local community is at the heart of the Mansfield Building Society and it's fantastic to see such positive reactions."
To find out more about School's Out Mansfield, you can find the on Facebook @SchoolsOutMansfield.
Our Community Support Scheme funds local groups and organisations in Nottinghamshire and Derbyshire and meets twice yearly to consider applications. To find out more or to download an application form visit mansfieldbs.co.uk/community-support-scheme/