Society donates £2,500 to local foodbank
We have donated £2,500 to Sherwood Forest Foodbank based in Mansfield Woodhouse, to purchase essential food and toiletries for people in need as the economic impact of the pandemic is felt across the region.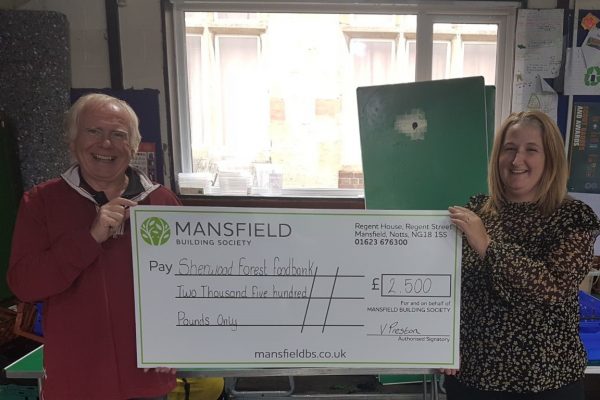 Reports suggest that a record number of people used foodbanks during the first month of lockdown.  The Trussell Trust, who support Sherwood Forest Foodbank, said that nationally it gave out 89% more food parcels in April 2020 compared to the same period 12 months earlier. With furlough schemes set to wind down and the longer term impact on the economy uncertain, it is thought that demand for foodbanks is set to remain high.
Vickie Preston, Head of HR, highlighted the importance of supporting the community at this time:
"As a Society, we are dedicated to supporting our community. We understand that COVID-19 has had a major impact on everyday life and we want to make sure we support those affected as much as possible.
We hope this donation makes a difference to the lives of individuals and their families in the area, and helps to ease the stress and anxiety caused by the ongoing crisis."
Keith Hadfield, Project Manager for Sherwood Forest Foodbank, said: "Thank you to Mansfield Building Society for their generous donation, which will help make a real difference to the growing number of people who rely on us at this time.
Coronavirus has had a huge impact on people's financial circumstances and left families wondering how they can afford to pay their bills and put food on the table.  We don't think anyone in our community should go hungry and this donation will help ensure we continue to support those in need."
More information about giving and receiving help from the Sherwood Forest Foodbank can be found at sherwoodforest.foodbank.org.uk/