Picnics in a Derbyshire village receive a boost thanks to our £1,260 donation
Our Community Support Scheme has made a donation of £1,260 to Hilcote Environmental Leisure Projects (H.E.L.P.) for picnic benches.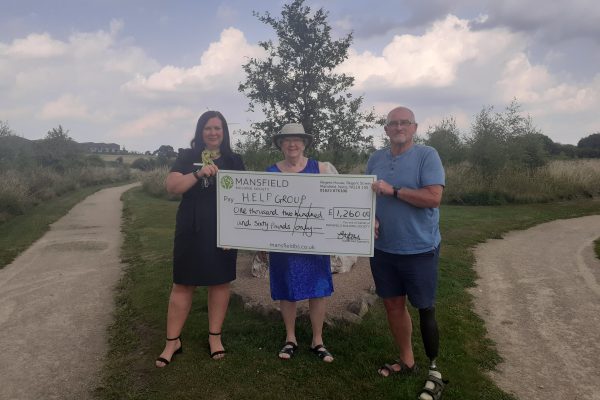 H.E.L.P. is a volunteer group that works alongside Derbyshire Wildlife Trust and Severn Trent Water to help maintain the environment at Hilcote Village. The organisation made an application for funding to support their latest project – Royal Oak Meadow and Woodland. Having already put in a new footpath around the project area, H.E.L.P. sought funding for 3 recyclable picnic tables, to further allow local people to enjoy the area.
Brain Stocks, H.E.L.P. Chair, explained: "We have done numerous projects throughout the village, but funds were running out. We have attracted vast wildlife to the area already – there is a badger set that we hope to see cubs coming from, roe deer, brown hares and we have put up many bird boxes that are attracting a wide variety of birds that we feed every day. The picnic tables allow people to sit and enjoy the wildlife around them, and being recyclable, they sit firmly with our environmental ethos."
Emma Hall, Senior Branch Customer Advisor, who presented the cheque, commented: "As a society, we recognise how important the natural environment is to local people, so H.E.L.P.'s request was a firm yes from us because, not only are they working hard to benefit villages in our heartland area, they are doing it sustainably."
If you would like more information on H.E.L.P., you can find them on Facebook under Hilcote Environmental.
If you are a local charity or organisation looking for project funding and would like more information on the Community Support Scheme, please visit mansfieldbs.co.uk/community-support-scheme.