Fundraising support for the Lincs & Notts Ambucopter
Society staff have raised over £2,800 and the Society's Charitable Trust have contributed a further £2,500 to the Lincolnshire and Nottinghamshire Air Ambulance to support its life saving missions across the region.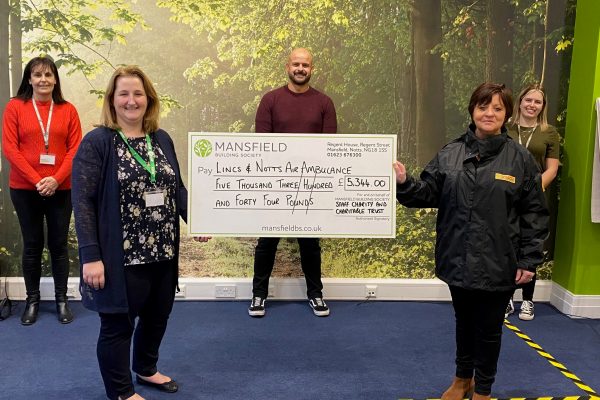 The Lincolnshire & Nottinghamshire Air Ambulance was named the Society's staff Charity Partner after colleagues voted to adopt the charity at the end of 2019.
Staff have been fundraising throughout the pandemic to help the charity, which provides critical life-saving services to those in urgent need, where every second counts.
Although the pandemic has hindered some of the planned fundraising this year, staff have risen to the challenge by arranging raffles and sponsored lunches, and other activities to generate a fantastic donation of £2,844.  With an additional donation of £2,500 from the Mansfield Building Society Charitable Trust, the overall contribution to the Air Ambulance Service in 2020 reached £5,344.
On average the Air Ambulance flies 3 missions per day which cost around £2,500 each. With no Government funding available, figures like this really emphasise the importance of fundraising for such charities, which provide such a crucial service.
Vickie Preston, Head of HR for The Mansfield commented
"As a local building society, colleagues are committed to supporting our community, and what better way to do this than fundraising for the Lincolnshire and Nottinghamshire Air Ambulance – a key medical service that operates across our Heartland Area.
The emergency care provided by the Air Ambulance is crucial and we are very proud to play an active part in extending availability of the service to help those urgently in need."
Tanya Taylor, Corporate Development Fundraiser for Air Ambulance, said – "At the Lincs & Notts Air Ambulance patients are at the heart of everything we do.  With crews on call 24 hours a day, seven days a week, 365 days a year, our highly skilled doctors and paramedics help people involved in life-threatening incidents. Whether on board the helicopter or one of our Critical Care Cars, the crew transports a mini A&E department to patients involved in emergencies ranging from cardiac arrest and road traffic collisions to assaults.
We work closely with our fantastic NHS but we don't receive any funding. On behalf of the team here at Lincs & Notts Air Ambulance a huge thank you to everyone at the Mansfield Building Society for truly making a difference".