Charitable Trust's donation triples funding for Willington Wetlands
The Society's Charitable Trust has donated £5,787 to Derbyshire Wildlife Trust (DWT) to complete projects at Willington Wetlands.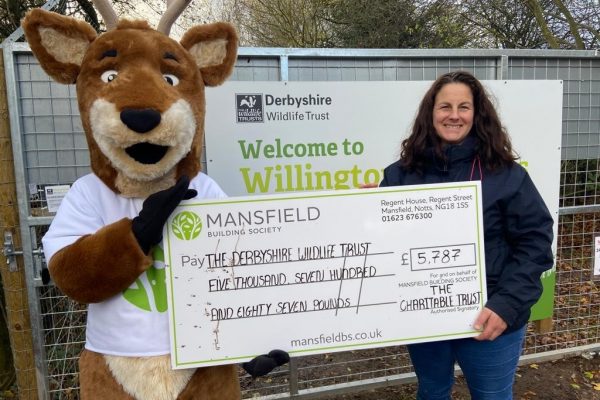 Willington Wetlands is one of DWT's flagship nature reserves and their 'Bridging the Gap' project will create new pathways and install a multi-user bridge to connect two halves of a broken bridleway, completing a 5 mile circular loop. The improvements will allow all visitors unhindered access to the surrounding countryside for the first time in over 20 years.
The fantastic ripple effect of the Society's Charitable Trust donation is that, along with other secured donations, the Landfill Communities Fund can now release 10 times the total donation amount to DWT, allowing the start of further projects, including the restoration of a Grade II listed cottage in Lea Woods. The Trust was gifted Lea Woods by the local community in 2012 and the site is expected to attract around 10,000 visitors per year.
Kate Lemon – Regional Manager (Trent and Erewash), commented:
"Willington Wetlands is teeming with birdlife all year round. Many local people responded to our survey about the improvements they wanted to see with 61% wanting better pathways and 74% would welcome a new bridge, creating a wider circular loop connecting to paths in the Trent Valley.
We really feel we have listened to those who use this space the most and geared our project plans to ensure they get the experience they deserve. This generous donation from Mansfield Building Society's Charitable Trust has opened the door to a phenomenal contribution from the Landfill Communities Fund, which will enable us to complete all planned work."
Vickie Preston, Head of HR, explains:
"The pandemic showed us all what a positive impact green spaces and being in nature can have on our mental wellbeing. We are thrilled Derbyshire Wildlife Trust is contributing towards improving accessibility and enabling people to enjoy the wildlife in our Heartland Area."
For more information about Derbyshire Wildlife Trust, visit derbyshirewildlifetrust.org.uk
If you'd like to read more about the our Charitable Trust, visit mansfieldbs.co.uk/charitable-trust