A 'knockout' donation to Mansfield All Star Amateur Boxing Club
Mansfield All Star Amateur Boxing Club has received a £500 donation via our Community Support Scheme to support the club with the purchase of new and high-end equipment.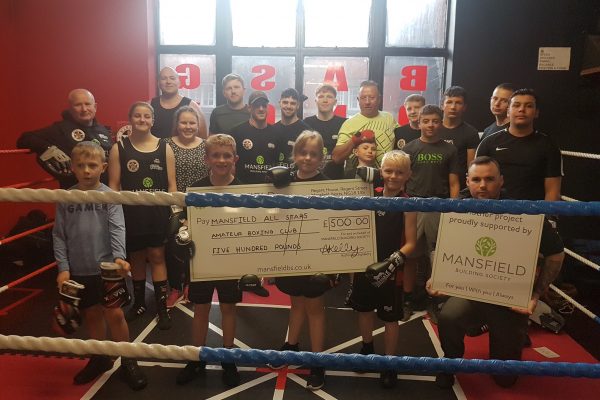 The club was launched this year and is run completely by volunteers in the heart of Mansfield.  Their aim is to improve mental and physical well-being, as well as reduce anti-social behaviour, by providing the community with fitness and competitive boxing opportunities.
Head Coach Rich Fox, explained that the Community Support Scheme donation has made a huge difference to the club:
"This funding has really helped us by allowing us to pay for essential fees so our members can enter boxing competitions.  We've also bought new equipment, including uniforms, skipping ropes, gloves, bags and a gym upgrade.
All this has been crucial to the opening and running of the club, where our members love coming."
Branch Manager, Carole Dallison, was really impressed by the community feel the club has:
"It was great to go down and meet everyone at Mansfield All Star Amateur Boxing Club.  Straightaway, it was clear to see how welcoming the club were of new people – there were new member enquiries happening all evening.
It was lovely to see the team work with a variety of ages, genders and experience.  Everyone looked really proud to be part of the club."
To find out more about Mansfield All Star Amateur Boxing Club, visit facebook.com/teambodyandsoul
The donation was made through the Society's Community Support Scheme which funds local groups and organisations in Nottinghamshire and Derbyshire.
The Scheme meets twice yearly in May and November to consider applications. To find out more or to download an application form click here.